Anita's Choice Whiskey
Client
Anita's Choice Whiskey
Bluffton, SC
What we did
Brand Creation
Packaging Design
Vendor Sourcing
Portfolio Strategy
Overview
When the brothers at Burnt Church Distillery first told us they wanted to make a "bourbon for women," we had our reservations, that is, until they told us why. Intrigued by the research showing a tendency for women to have more attuned senses of smell and taste, the brothers sought to create a complex spirit to engage and appeal to a more sensitive palate that could pick up on distinct nuances.
We knew this couldn't be a stereotypical, pink-forward package; we had to create a story and packaging for this six-grain bourbon that would appeal to both women and men while honoring the unique strengths of women. Inspired by the distillery's roots with the Lowcountry, it only made sense to connect to the story of Anita, a suffragist. She was an independent-minded woman who made bold choices that shaped her legacy and improved the lives of women for generations to come.
This packaging is designed to convey the boldness of spirit - to reflect self-assurance with understated strength and beauty. With a single label full of tactile embossing, subtle 'A' pattern work in the background, and a distinctly monochromatic color palette, this spirit is the distillery's number one seller and a category break-out bottle selection.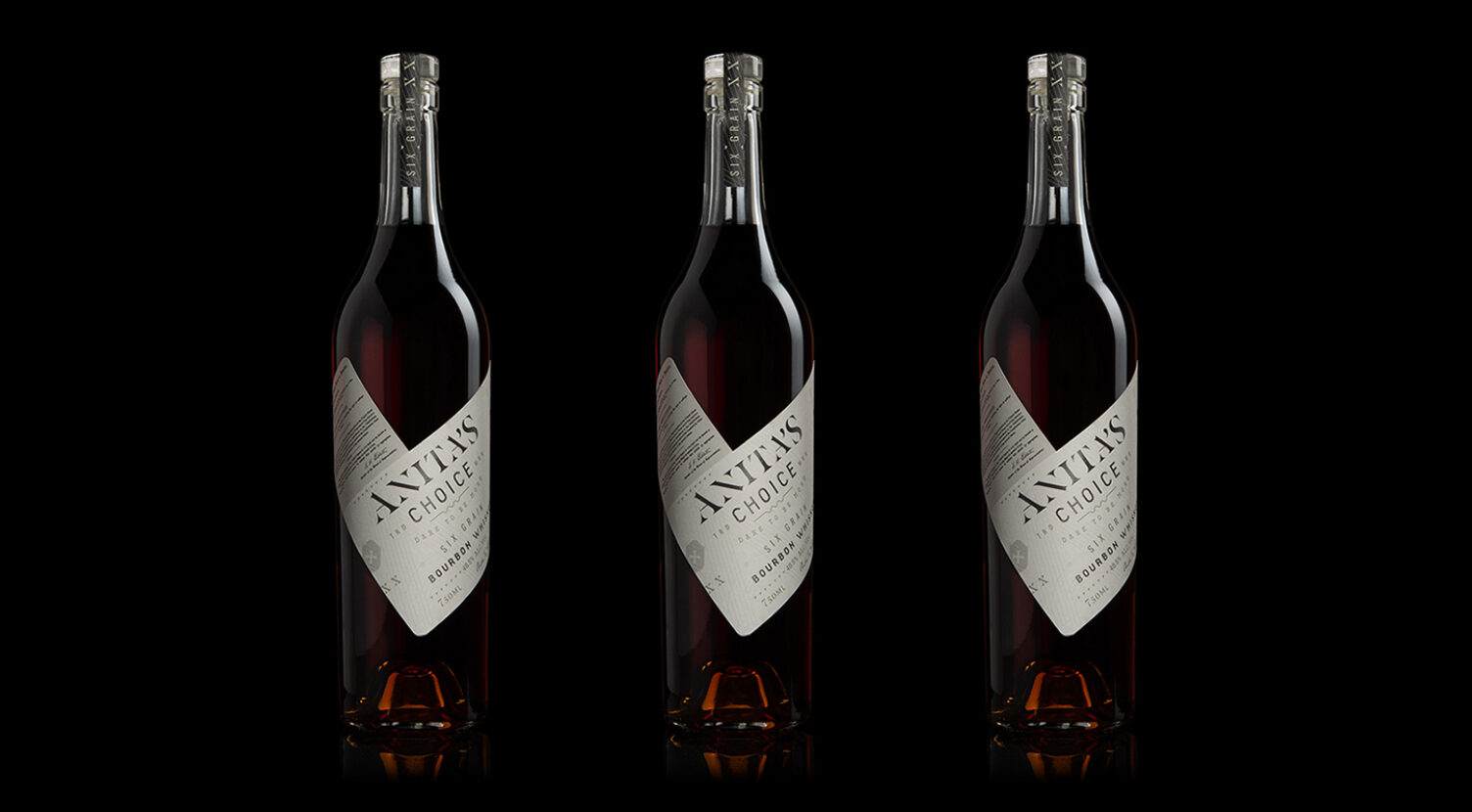 Unique to this design:
Clear glass topper - keeps the focus on the tactile label by providing a clean visual element that is modern in both form and function

Origami-inspired label - the single-label design creates a more intriguing visual unlike anything else on whiskey shelves and gives a nod to the 19th Amendment

Monochromatic color scheme - the lack of color adds a level of seriousness and strength to balance the smoothness of the glass bottle
Burnt Church Distillery is a varied collection of brands developed by two brothers with a love of the Lowcountry and a knack for building successful brands across industries. Having worked with another agency at an early stage, they recognized the need for a team more familiar and experienced with the spirits industry to take their brands to the next level. The Thoroughbred Spirits Group was brought in to assist with financial modeling, liquid development, packaging design and sourcing, and general advisory services. Anita's Choice is one of nine unique offerings the Thoroughbred team re-envisioned for Burnt Church Distillery's house of brands.